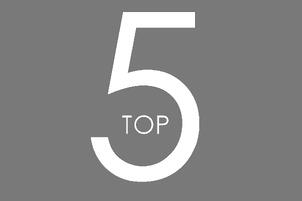 When charged with the notorious "beating your head against a wall", and at the very least unpleasant, task of choosing a cylinder supplier -- one can quickly become disenchanted with all of the industry hype and mumbo jumbo.
From the mammoth sized companies, in which you can get lost and slip through the cracks, to the miniature sized companies that don't offer competitive quality or the same kinds of guarantees as the "big guys" -- the options seem pretty limited.
It's important to set your sights on what's best for your bottom line, but also on what's going to help you do your job more efficiently and effectively.
That's why we came up with a short list of the five most important things you should consider when deciding on a cylinder supplier. AND why those five important things matter.
When looking for a cylinder supplier, you want one that not only has a quality product, but has truly invested its time and resources in to providing the best performance possible -- and continues to pursue that goal. Look for product performance that offers:
Longer lifetime of service

Minimal downtime

Lower operating costs

A solid warranty

Easy installation -- that's fast

Simple, affordable repairs (no special tools required)
If a company can't offer comparable product performance as described above, then perhaps they offer more product than performance?
Take a look at Sheffer's pneumatic cylinders - they are proven to decrease downtime, minimize waste and maximize profits better than any cylinder on the market today. (We know that's a pretty bold statement, but we wouldn't state it if it wasn't true.)
Whether it's discussing generated force and movable distance or walking through your operating environment, travel speeds and pressures spikes, the engineers involved in cylinder manufacturing should be at the vanguard of real-world uses. Throughout the design of your application, engineering should follow your cylinder every step of the way -- identifying any areas of concern from effects and fatigue analyses, and even life testing for large OEM applications.
When assessing engineering and technical support across cylinder suppliers, be sure to assess the list below:
Time frame of custom cylinder quotations

Access to engineers for technical assistance

Engineering testing, evaluation and troubleshooting

Application evaluations and recommendations

Conceptual development and reverse engineering

3-D solid models available in your used/desired format

Finite element stress analysis

Virtual and physical prototyping

Final engineering drawings provided for approval and implementation
You need exact information and assistance on matters that will directly affect your business, so engineers should be available to visit you on-site to see and discuss your needs firsthand, and they should always be accessible for questions and follow-up support.
Sheffer's team of engineers go the extra mile to support you throughout the design and implementation of our pneumatic and hydraulic cylinder products.
We've said it before, and we'll say it again: Details matter – in some cases, they are the critical factor in your job safety, machine performance and industry success.
When assessing cylinder suppliers in the resources and tools department, be sure to take into consideration not only how many literature type resources they have online -- whether they be a blog, whitepapers, ebooks and more -- but also tools like an online configurator.
They offer a cylinder configurator? Great. Does it allow you to easily select the ideal cylinder or actuator for your application? It should be easy enough to use. Definitely nothing you need a degree in to operate. And definitely nothing more than something that takes just a few minutes and clicks through some drop-down menus. You're not trying to build a space shuttle... or maybe you are! Either way, configuring the cylinder you need should be simple and painless.
Sheffer offers a simple, easy to use cylinder configurator so that you only need to enter your specifications and performance parameters for your particular project, and then simply view and download your drawing or model in your own CAD format. Want to see it in action? Walk through our detailed demo.

Yes, shipping. Whether or not your cylinder supplier can get you that fantastically, awesome cylinder that you configured and ordered, in the time frame you need it, is of utmost importance. Right? What good is the cylinder at all when it isn't doing what it's supposed to do, where it's supposed to be doing it.
Not to mention the all so common saying, "time is money." But truly in this case it is. Let's say you're waiting on a replacement cylinder... that means that likely you're operation is down the entire length of time it takes to configure, process, manufacture, test and ship/deliver it. That could potentially be a lot of downtime if you're not dealing with the right cylinder supplier, and ultimately leads to decreased production and decreased profits for you and your company.
Sheffer guarantees to ship any order that qualifies within three business days – or your order is free, with our Three or Free Guarantee.
At the end of the day, the success of any business rests on the ability of people to effectively and meaningfully interact with other people. So as cliche as it may appear to have included "customer service" within our list of top five -- the reality is that it matters. A lot.
Think back to the last time you were at the grocery store, or restaurant, or post office -- you name it. When you approached the checkout lane/hostess station/counter and were greeted with a straight faced, "Hey." Did you respond with an exuberant, "I'm doing great!" And immediately your face flooded with a smile and your heart with warm fuzzies? Probably not. We're not saying that every time you have a business interaction that you should be overwhelmed with rainbows, unicorns and fairy dust. But wouldn't it be nice not to get a headache because you simply feel like you're beating your head against a wall? Dealing with your cylinder supplier should not be like beating your head against a wall.
The customer service your cylinder supplier offers should be an ally in allowing you to do your job more effectively. Freeing up time, instead of consuming it. Informative, instead of problematic. Cost-saving, instead of costly.
Sheffer embraces a corporate philosophy where the end-user always comes first, knowing our personal relationships with our customers and distributors are just as critical to our success as our innovations. Learn more about the quality of our service and guarantees.
What have your experiences been with your current cylinder supplier? Leave a comment with your thoughts below...